Background
In 2008, Air Canada introduced Fuel Surcharge into base fares for North American travel and for other travel outside of North America, it used the term carrier surcharge.  Both are known in the industry simply as "YQ".  If you look at the taxes for your next flight and see a charge for YQ, that's what it's for.
Air Canada's spokesman Peter Fitzpatrick once told CBC that "these charges are collected by airlines to partially offset certain volatile, unpredictable or fluctuating operating costs and fees, and certain fare premiums linked to peak travel periods."
To me, YQ is a lazy excuse to have the consumer pay for the ineptness of a management group that cannot properly run a business but what's worse is that there is very little oversight to the collection of these fees so essentially the consumer is expected to trust airlines to properly determine the correct amount to charge.
While I have no way to prove it, airlines are simply using this fee to prop up their bottom line.
With Air Canada realizing a Net Income of $308,000,000 in 2015, I believe that YQ is simply there to make more money for the airline.
Let's be clear, YQ is charged by airlines and NOT AIMIA, the owners/operators of Aeroplan.  Aeroplan simply passes on YQ and has no discretion in the matter.  If the airline charges it, they pass it onto you when you book your reward flight.
Now there are a lot of sites out there that claim they have a comprehensive list of airlines that charge fuel surcharge but often the list is not complete and more often than not, the list has not been updated for years.
Things change.  Airlines join alliances, governments ban fuel surcharge and airlines drop YQ so you probably want to rely on list that is up to date and tested.
Methodology
You will notice that in the master YQ table I list information that is important to those searching for award travel, namely, the IATA code for the airline, the airline's home country, the hubs of that airline and the route I used to search to determine if YQ is charged or not.
I searched each airline using Aeroplan.com and plugged in the routes noted in the table.  Now keep in mind that YQ makes up a portion of the total taxes and fees that you will pay but the YQ is something you can be control.  Taxes not so much.
For example, if you to London on any airline, you would still pay exorbitant airport fees regardless of what airline you flew but that's on the UK and Heathrow … not the airline.  Keep this in mind when you search for a reward flight.
Below is an example of a flight on Air Canada from Toronto to London return.  Notice that the Carrier Surcharge ($366.00) is high but so is the UK Air Passenger Duty ($127.40) and the UK Domestic/International Air Travel Security Charge ($72.70)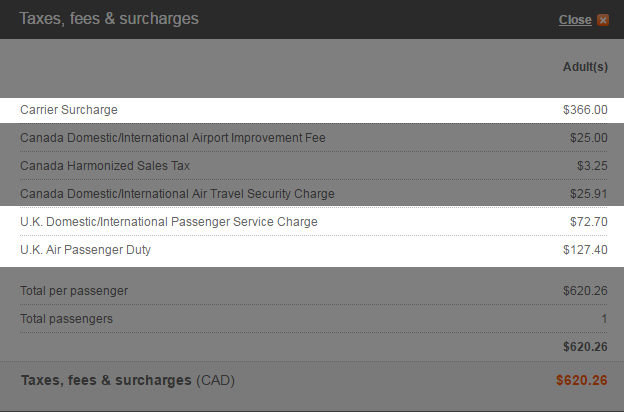 This is simply to say that while YQ is HUGELY important, it is only part of the equation.  It now becomes incumbent on you, the user, to understand which airports and countries are conducive to low taxes and fees.
YQ Chart
So without further adieu, below is a list of ALL the airlines in the Star Alliance and whether they charge YQ or not (click on the chart for an Excel copy of the chart):
What you will notice in the above table is that of the 27 airlines in the Star Alliance, only 5 charge YQ.  Now the amount of YQ isn't what is important here because that changes based on the route (and sometimes the class of service) … what is important is that you have a LOT of choices when it comes to airlines to fly if you want to save money on fuel/carrier surcharges.
Now the problem that most Canadians have is that Air Canada is the Canadian carrier for the Star Alliance so how do you escape the YQ charges?  The answer is positioning.
Say for example you want to fly to Europe.  Well, you can either fly on of the European carriers that don't charge YQ like Brussels, Scandinavian, Swiss or Turkish (if you live in one of the cities in Canada these airlines service) or you can position to the United States using United, an airline that services the US and does not charge YQ.  So perhaps you could fly Calgary-Houston on United and Houston-Istanbul on Turkish or some other combination.  The key here is to use carriers that don't charge YQ.
Now for those in the know, you will see some carriers that I list as ones that do not charge YQ when in fact they do … it's just that their home countries have banned the collection of fuel surcharge (All Nippon Airways, Asiana, Avianca) but keep in mind this can change at the whim of a government.
I will do my best to keep this table updated so you can have one reliable source for this type of information.
Click here if you would like to get these tips, reviews and travel hacking secrets right to your inbox for free