How I Hack – Heavily Discounted Uber and Lyft Rides
How I Hack – Tools to Keep Track of Miles and Credit Cards
Today marks the first in a series of posts that I am calling "How I Hack".  The goal of this series is to provide some insight into how I approach Travel Hacking.  I will cover the tools I use, the tricks I used and the methodology of how I find great travel deals.  Today I am covering the ride sharing services of Uber and Lyft.  As I add articles, I will link them at the top of each article so you can have a full understanding of my methods.
As a Canadian that travels to the US, I always use a local SIM card for my phone and data usage because our regular roaming plans in Canada are exorbitant.
I currently use the OnePlus3 which boasts a dual-SIM tray that allows me to use 2 SIM cards at once.  In the first slot is my regular Canadian SIM and in the second slot sits a Roam Mobility SIM card.   Now Roam Mobility has been my go to for quite some time because of its ease of use.  All you need to do is buy a SIM card at any one of the retailers listed below (usually $9.95) or online ($9.95 or less depending on the promotion).

As you can see, you can pick up the SIM card almost anywhere in Canada … I mean there's a 7-11 or a PetroCanada in almost every town I've ever been to.
With this SIM card, you now can subscribe to a plan with Roam.  You can either choose Text+Data for $2.95/day, Talk+Text for $3.95 or Talk+Text+Data for $4.95.  I go with the full meal deal (Talk+Text+Data) because it's simple, covers everything off and comes with 500MB of 4G LTE data per day!  That's a LOT of high speed data at a very reasonable price.  If you want more information on the available plans, check out the site here.
So how does this all tie in to heavily discounted Uber and Lyft rides?  Well, both Uber and Lyft are in their infancy phase and desperate to attract new riders so there are a lot of free ride promotions.  All you have to do is download their app, confirm your phone via text message and enter a promo code for a free ride.
For the Uber promo code, I simply check their promo page at https://www.uber.com/promo/ and for Lyft, you can check a site like RideShareOwl.  When I signed up for Lyft, I accidentally signed up with a promo code for $5 off each my first 10 rides and while that is generous for those that use ride sharing a lot, it didn't fit my needs so I emailed Lyft and asked them if I could use another promo code.  They came back and said "of course … would you like to use a $50 or $60 off your first ride coupon?" …. ummmmm … $60?  The response and response time was excellent with Lyft so I would encourage you to reach out if you have any issues.
Now how does Uber and Lyft ensure that only new riders get to use this promo code?  Well they do it through your cell phone number.  Both Uber and Lyft store the user's phone number in their database in order to associate a person to an account.  That's where Roam comes into play.  You see, with every SIM you purchase, you have a new phone number assigned to you.  Because this gets into the ethical gray area, I'll leave it at that.  For those that want free/cheap Uber and Lyft rides, you just need to use your noggin a little.
On my recent trip to Disneyland, my daughter and I flew into the John Wayne Airport (SNA) in Orange County and took an Uber to our hotel and the ride was less than $22, the amount of the promo code I had, so the ride was free.  On our return to the John Wayne Airport, I used Lyft and had a discount code for $60 off your first ride and suffice it to say, the trip was free as well.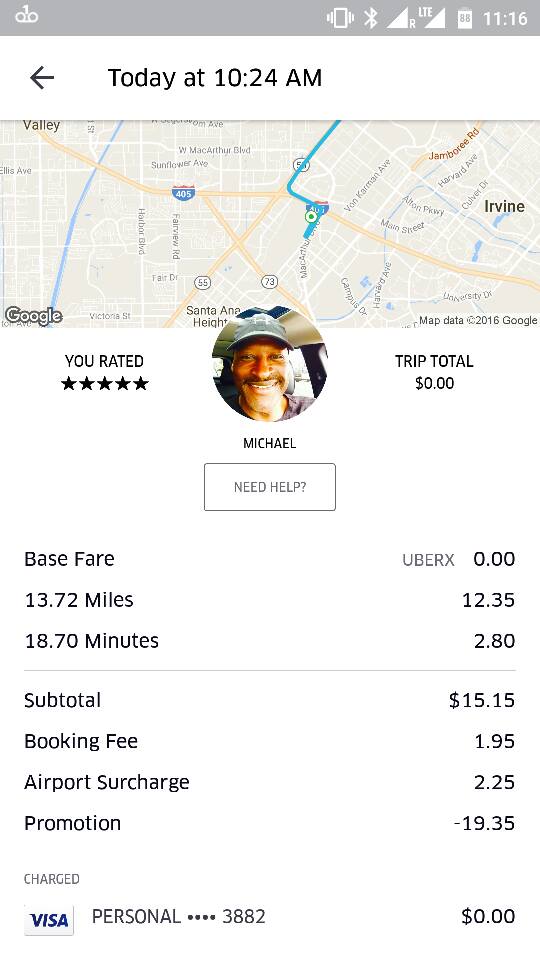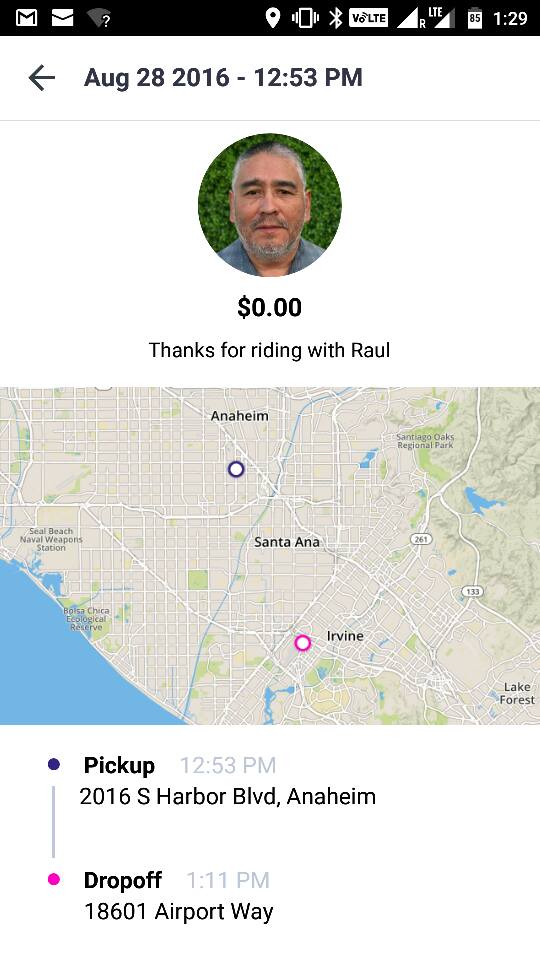 My rides would have totaled $37.16 USD for our transfers to and from SNA but instead through just a small effort, it only cost us $9.95 CAD.  Obviously with the $60 Lyft credit, we could have travelled a lot further and extracted even more value so keep this little trick in mind the next time you travel to a destination where Uber and Lyft are available.  You should also remember that this trick can be leveraged for other ride sharing programs … I just find comfort in using fairly well established companies such as Uber and Lyft.
Click here if you would like to get these tips, reviews and travel hacking secrets right to your inbox for free